The Future of Workspace Design: Working in New Spaces with Dark Horse
June 23, 2021
5 min
From our series: New Work teams up with Workspace Design: Where will we work in the future?
New Work is no longer so "new", since in many ways New Work is already evident in our daily work routines. We're utilizing technologies and redefining collaboration, we're flexible and working in different ways – but still at the same location. For the innovators at Dark Horse, that's where the problem lies. "New Work has changed the way we work, but our working environments are trailing behind", says Pascal from Dark Horse. The innovation agency is concerning itself with how to create working environments which correspond to New Work methods. For this reason, they joined forces with the agency raumHoch to found their own architecture firm: Dark Horse Workspaces. The firm exclusively focuses on the conception, design and construction of workspaces which facilitate a new way of working.
Why do working environments need New Work?
New Work represents digitalization, collaboration, creativity and agility. All of these factors change how we work. At the same time they also affect where we work, at least theoretically. In reality, most companies have simply integrated New Work approaches into their outdated office spaces. The concepts for a lot of these spaces were created at a time when Windows 95 was a game changer. In 2021 there's (hopefully) no longer a company setting its hopes on Windows 95, but many are continuing to work in offices that are its spatial equivalent. That's still the case, even when it's obvious that new working methods require new working environments. New Work not only means that we're working differently today than 20 years ago, but also that the needs of a new generation of knowledge workers have changed. They want to have professional fulfillment and an attractive place to work. Giving consideration to what they're seeking can also be beneficial for employers: "When we have a sense of well-being in our work environment, we get into a state, a kind of flow, which allows us to do a better job", says Pascal when explaining why our working environments are so important. The first part of this series featuring Vitra's Club Office demonstrated that we need offices or physical workspaces to foster interaction. How should we visualize these New Work environments which have to meet a variety of new requirements?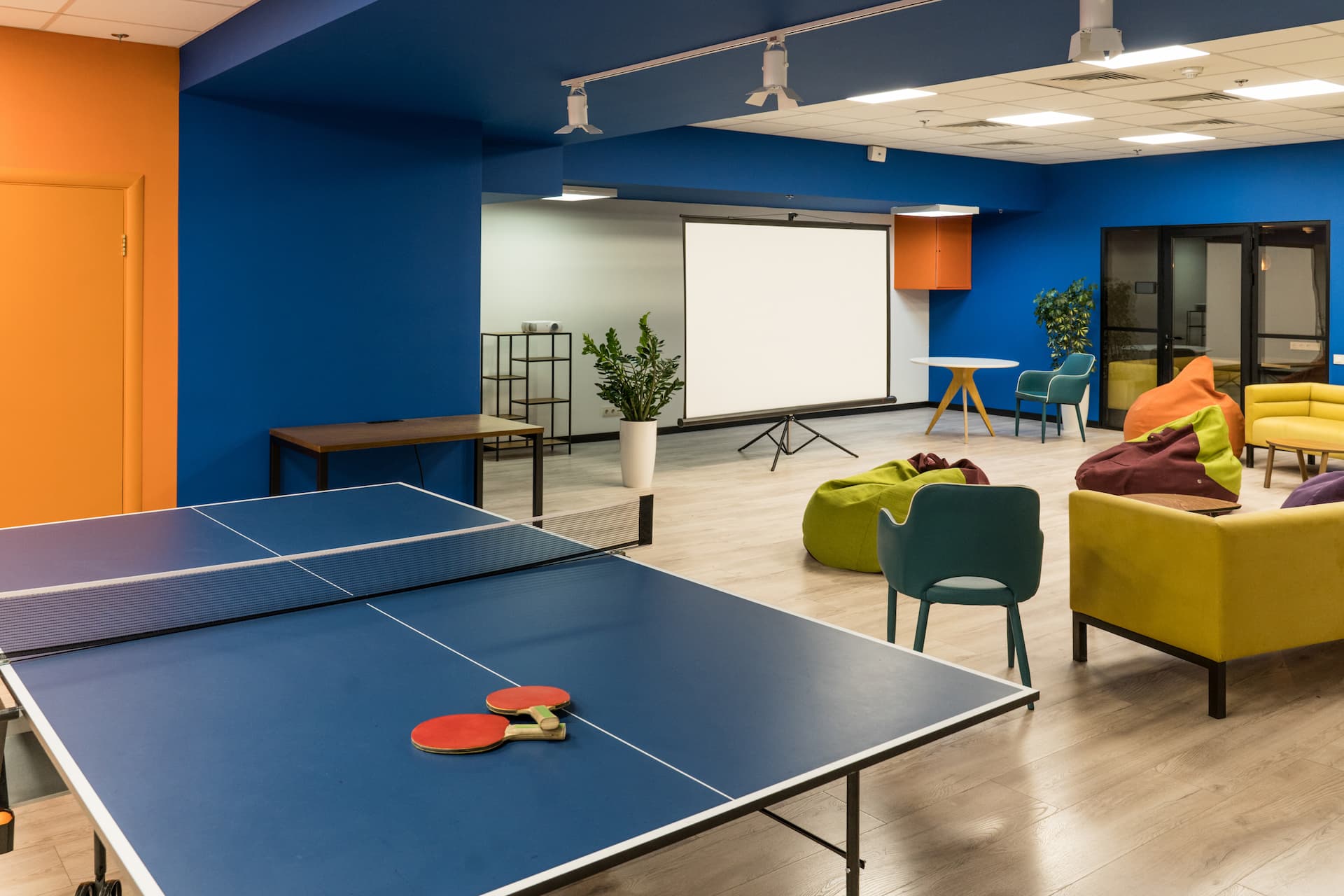 What Do New Work Spaces Look Like?
To aid in the conceptual planning of working in new spaces, Dark Horse created the "New Workspace Playbook", which delves into the key elements of configuring a New Work office. "Good environments not only boost a team's functionality, but also its emotional well-being", says Pascal. Concepts for New Work spaces should facilitate encounters and exchanges for team work, yet also encourage informal contact which strengthens our sense of unity. That's why a team's working space is on equal footing with cafés, lobbies, or marketplaces. Simultaneously, it's about creating an attractive environment. Rooms can positively influence and inspire us – through such simple things as the right lighting, an inviting design, being suitably equipped and adaptable to current working needs. So it's not only about having a creative environment, but producing an environment where we feel at ease. Small things also make a big difference here, for example: plants for decorating the workspace, ergonomic furniture for working comfortably, having the opportunity to take breaks. New Work has recognized how important it is to take a break. This break is no longer limited to eating lunch in the canteen, people are also resting in napping rooms or having some fun on rock climbing walls. It's important to note that the work environment should always reflect the company's identity. The working spaces should epitomize what the company stands for. Employees and visitors alike should be able to sense the company's values. "New working spaces are only half of the story", says Pascal, pointing out that New Work is an interaction between approaches and spatiality – one can't function without the other.
How Do You Build A New Work Office?
In general, an infrastructure should be created which is suitable for collaborative work and is particularly adapted to encourage it. There's no masterplan for this, because each company is unique, has its own corporate identity and its own needs and requirements. Pascal shares Dark Horse's workspace approach: "The easiest and best way to plan an office that will function effectively and be well-received is to involve those who will, later on, be the judge of that: the users!". Users getting involved for the first time won't have to start from scratch, thanks to plenty of information, ideas and inspiration about New Work environments which can be found in Dark Horse's New Workspace Playbook. They've also developed an innovative Office Builder Kit which provides users with a hands-on tool for office planning and visualization. It's been designed to provide inspiration when you're at the starting point of planning your own office of the future. To get started, simply download the PDF and print it out: the Kit features various spaces and rooms in modular form at a scale of 1:50, with each module representing a particular work mode. You can also grab some scissors and cut out the modules to flexibly experiment with various layouts. It's a user-centric, collaborative way to test strategies and discuss options while planning a New Work environment that's suitable for the team.