Standing together & facing the pandemic: Unicorn's Corona testing centers
May 10, 2021
4 min
Since March 2021, Unicorn has been administering free Corona tests for residents as a "certified third party provider of the public health service", with testing taking place in our workspaces. In the beginning of the year, before we were commissioned to administer the free tests to residents, we had already decided to utilize our unused areas in the Unicorn Haus am Platz in Potsdam and the Unicorn Village in Berlin-Neukölln to set up testing centers. Since then, we've been administering antigen and PCR tests for residents 7 days a week. So why are we doing this?
Every problem requires a solution
The pandemic in 2020 brought about unexpected challenges for our business model – from one day to the next many of our office spaces were suddenly empty. Not only was this a sad sight for us, it also wasn't very profitable. So we did what startups do best: we approached the situation with agility and flexibility. We quickly realized with a Corona testing center we could put our unoccupied office space to best use during the pandemic. Testing is crucial for early detection and breaking chains of infection. Especially at the end of 2020, when antigen self-tests could not yet be purchased in pharmacies or drug stores, testing centers were playing a decisive role in the testing strategy. It was necessary to quickly set up these testing centers in locations which could provide enough space for their operations, and that's why we got involved. Even though rapid tests for private use are now readily available, testing centers are continuing to play a key role in the federal government's testing strategy. "It's good if certified third party providers can increase their testing capacity. By working together with many other providers, we can successfully implement the testing strategy in Potsdam", said the city's mayor, Mike Schubert, when describing the joint efforts between certified third party providers such as Unicorn and the city. In response to the mayor's appeal, we've added an additional testing tent and can now test up to 5,000 residents every day at our Potsdam location.    
Business, politics & art during Corona 
"The testing station is located in a beautiful rear courtyard. In addition to the smoothly run testing process, I also enjoyed having a look at the art gallery which adorned the reception area. I'd like to thank you for running the center as well as for your dedication", twittered Dilek Kalayci, Berlin's Senator for Health, after a visit to our testing center in the Unicorn Village. The testing centers, however, not only demonstrate how quickly a response to an urgent issue can be generated, they also show that there's always room for creativity – which is why we teamed up with the portrait and documentary photographer Florian Reimann to curate an art exhibition in the waiting area of our Corona test center in Neukölln. It's a Corona test plus a dash of culture. While visitors are waiting for their test in the Village, they can check out a visual journal documenting these surreal Covid times in the photography series titled "Ay, Corona". On a functional level, the Unicorn Village is equipped to administer up to 3,000 tests per day and is ensuring an early detection of infections with a positive result rate of 0.5% to 1.0%.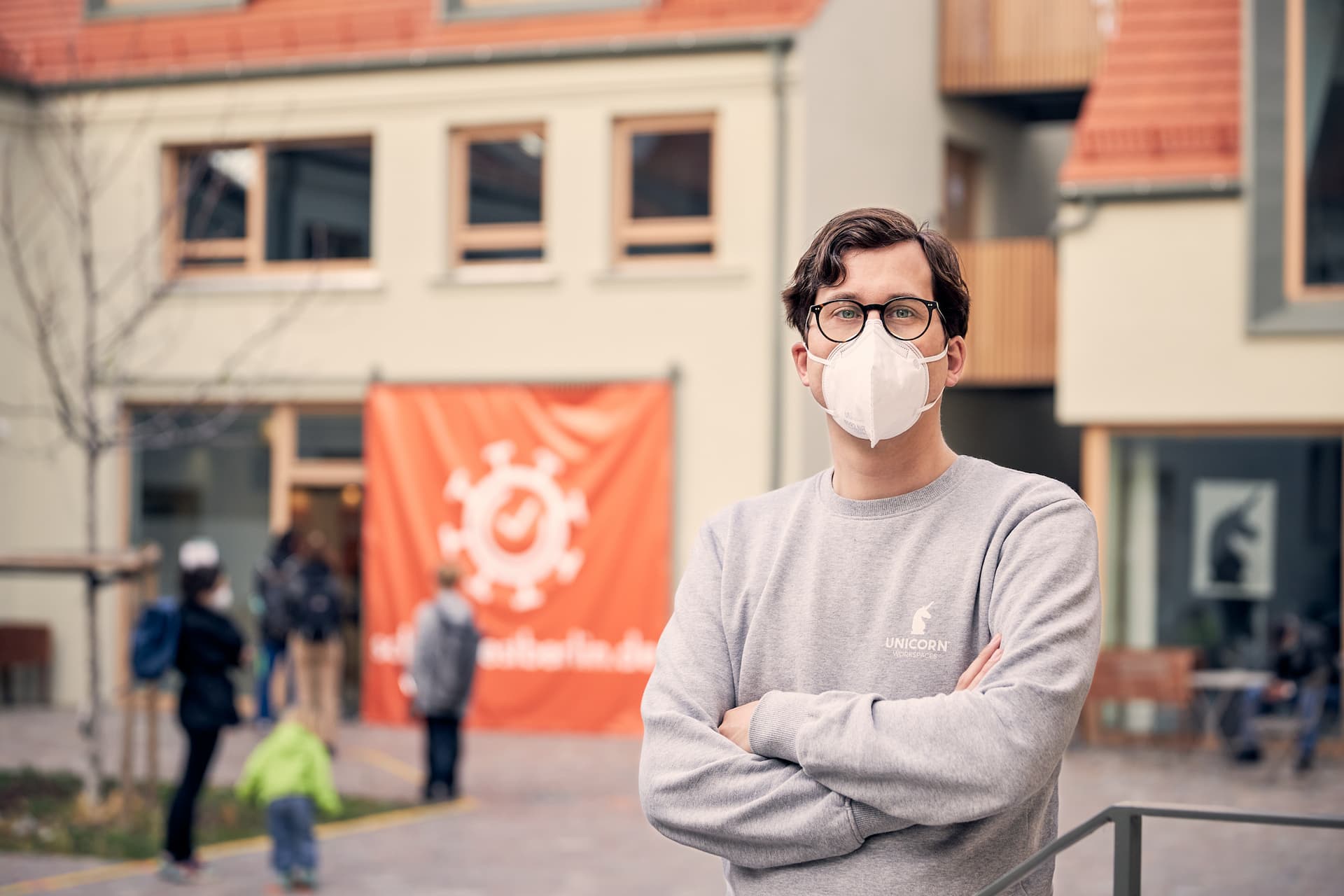 Why we're looking forward to closing the testing centers
You might've already guessed the answer. The collaborative effort between government and private businesses, the art exhibitions – we think this is all really cool. We're glad to make a contribution to fighting the pandemic with our testing centers. But, just like everyone else, we're longing to see an end to this pandemic soon. New Work style team offices and terrific Barista coffee drinks are what we do best – that's what we're really about. Besides, we know that the art exhibitions won't close when the testing centers do. We'd like to once again see our workspaces become a place where people encounter one another and work creatively with others – without restrictions. Yet until that point is reached, we'll continue to do what we're doing pretty well: testing, testing, testing!