Hybrid working: 5 questions for the architect Ralph Manthey
September 8, 2021
6 min
As you may recall, last month's Unicorn Blog began to explore this subject with the entry "Offices of the future: hybrid working". Hybrid working is a trend which is already being implemented in the world of New Work and it's currently being considered as a work model for the future on a more extensive basis. The distinguishing characteristic of hybrid work is its ability to flexibly combine various work modes. Hybrid working models allow employees to choose from mobile work, remote work and working at the office – ensuring that their working environment is best suited for their particular mode of work.
Ralph Manthey is the architect and owner of MAAD Architektur Design. Among his specialities is the planning of modern working environments. Ralph has already completed many workspace design projects for a number of companies, including Unicorn Workspaces and 1000 Satellites. He also provides consulting services for the redesign of existing workplaces. We had the opportunity to ask Ralph the following five questions regarding work and the office of the future. 
How do you envision working in the future?
The trend is clearly towards more flexibility in the office, with the focus being on connecting office work with remote work. The pandemic has caused management and employees to considerably change their views on this subject, since it became inevitably clear that not all employees had to be in the office everyday. In the future, it's going to be about designing the office flexibly enough to take different needs and working processes into account. The office will need to have a complementary function, and it should create meaningful added value for the work process. Yet in the long-term, the office will no longer solely be the focal point. 
How will this affect offices in the future?
In the long run, offices will represent a grouping together of various working areas. Workspaces will no longer be constructed to provide a fixed workplace for each employee, the office will serve rather as a practical supplement to remote work. It will have to be suitable for doing both highly-concentrated, solitary tasks while being conducive to team building and hosting meetings and events. The cross-linking of various work methods and how employees communicate and socialize with one another through them is gaining importance – not only for the impact on the quality of the work, but also because of employee satisfaction. Areas will need to be created in the office which can foster both an exchange of knowledge and social contact among the employees, encouraging them to discuss work-related topics and socialize in a relaxed environment. In terms of productivity and team satisfaction, this is essential to offset the time spent working apart remotely.     
What's your take on hybrid working as a work model for the future?
Basically, companies should view hybrid working as an opportunity to react to the significant societal changes we're witnessing. This includes confronting issues surrounding the office itself, the methods of work and the team's internal processes as well as the company's image. In no other previous generation has there been such an emphasis put onto employee satisfaction and productivity. This includes questioning the old ways of doing things and reacting flexibly to the various preferences and ways of working within the team. A good office with added value as a supplement to remote work can both support and promote the team's work.  
How can companies successfully implement hybrid working models? 
Transparency and open communication within the company is critical for structuring hybrid working environments. Nowadays it's different than in the past, many planning processes and decisions are no longer being handled by the management. What's crucial now for the planning process is close contact to your teams, getting involved in their processes, being interested in their expectations, problems and ideas for improvement – to create an office appealing to all employees, enabling each staff member to discover and take advantage of the added value that their office provides in comparison to their remote working situation. Therefore, it's also essential for the management to responsibly align itself with staff to ensure that their focus is placed on the team. This is one of the reasons why more and more managers are no longer requesting a private office for themselves and are beginning to question the hierarchies they previously endorsed. There's a considerable change of views taking place, which can especially be seen in companies with more conservative structuring.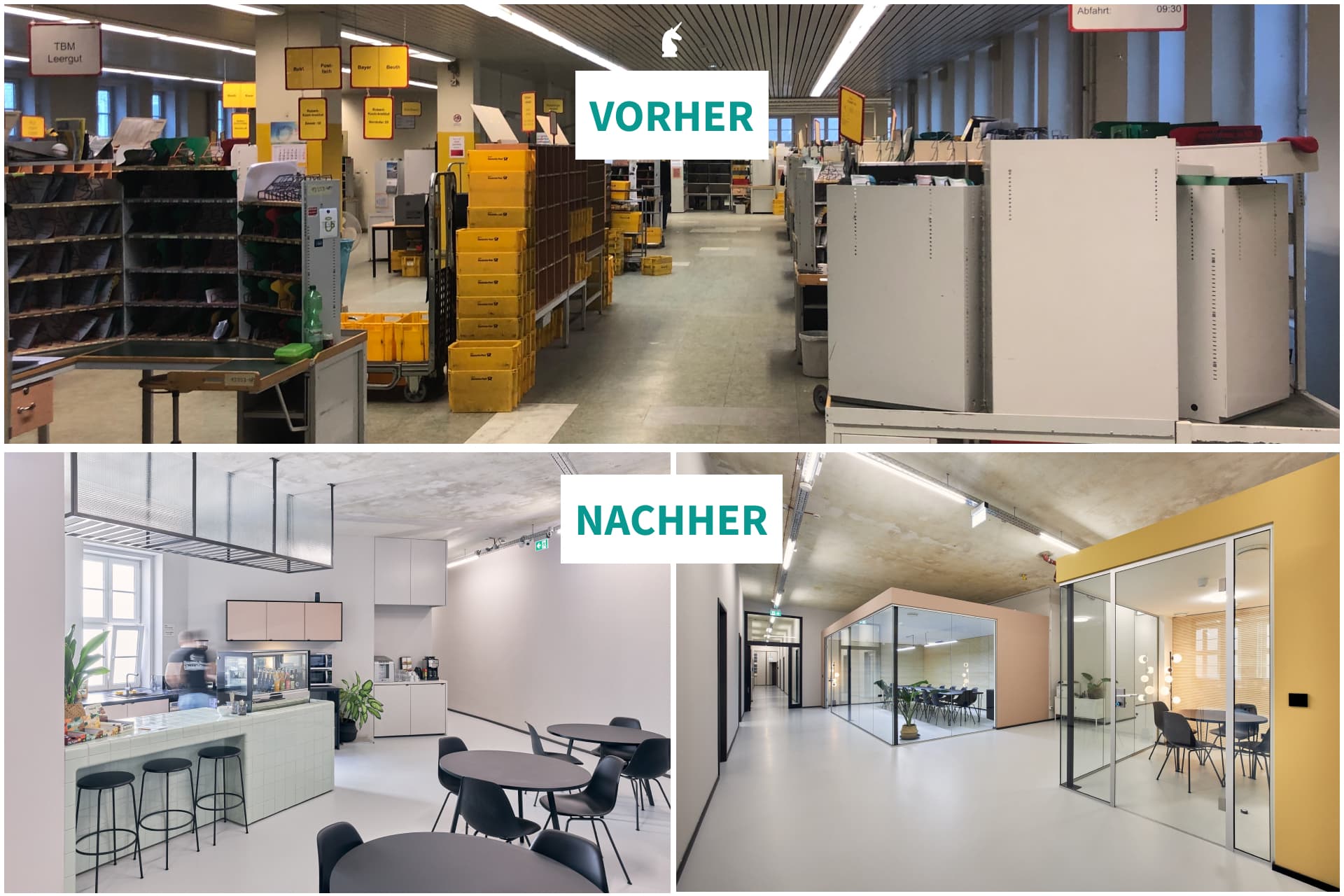 How will we be working in 100 years?
In recent years, we've seen rapid changes in work behavior accompanied by corresponding changes in the workplace. Things which were unimaginable in the past are now being put into practice and have even become the norm. Many companies wishing to recruit new staff will have to frankly ask themselves whether they can meet the demands of a modern and flexible working world. Different developments will manage to maintain their momentum – whether it's individual offices, sterile open-plan offices, lively coworking spaces or hybrid working models. Many working models will not be embraced by everyone or will disappear again. There are also a number of working procedures which are simply incompatible with the flexibility that can be granted for other processes. Some qualities of older working models such as the individual office or open-plan spaces will also be revisited, albeit in newly modified forms. The main issue, however, is the significant change in working procedures brought about by digitalization, which, in terms of flexibility, is providing us with unprecedented opportunities. This will have a tremendous impact on the working world and workspace design. We'll be given the chance to develop and transform the office into a flexible and communicative workspace. We can already see how large companies are looking beyond just merely having offices. There's practically an overabundance of alternative working environments to the sterile office. We'll have to wait and see whether it will stay that way, however, it should be noted that every development up until now has drawn on traditional elements from the past. Individual offices, which got a bad rap for being "uncommunicative" environments when coworking came onto the scene, are once again being appreciated for their important added value as a quiet place to retreat, since that may not be possible in a noisy coworking space. Similarly, the hustle and bustle of an eventful workday at the office can suddenly bring about a longing for more personal space and privacy when working remotely.  
What we can see more than ever before: the design and planning of working environments needs to consistently respond to all kinds of new developments. Rigid work routines are beginning to fade away and there is more concern being placed on promoting people's individuality at the workplace.