Achieving Climate Goals: The "Climate Transformation Summit" at Unicorn Moritzplatz (10.-11.06.2021)
May 19, 2021
3 min
Germany is being forced to set new climate goals. In a historical verdict handed down from Germany's Federal Constitutional Court, Germany's Climate Protection Act was deemed unconstitutional and the laws protecting the climate should become stricter in the future. Businesses are also aware of the importance of climate protection. Climate transformation should be simple and straightforward for companies to implement – that's the mission of THE CLIMATE CHOICE, which provides a B2B platform focusing on climate-related solutions and organizes the annually held Climate Transformation Summit. Yet how can companies actively implement their climate goals? 
The CLIMATE TRANSFORMATION Summit: Achieving climate goals!  
That's exactly what THE CLIMATE CHOICE desires to accomplish with its 2nd CLIMATE TRANSFORMATION Summit by facilitating discussions with climate change representatives, decision makers and interested parties from various industry sectors. The online event will take place on June 10th and 11th, live from our Unicorn Moritzplatz location. A common question for a lot of companies who would like to take action is: where do we start? How can we effectively reduce C02 and how can climate goals be efficiently put into practice? In the initial summit held in 2020, special focus was given to how companies can set their climate goals and subsequently, 2021 has become the year of achieving these climate goals. Examples of best practice, solution providers for measuring CO2 levels, ways of reducing and offsetting CO2 emissions, as well as speakers from diverse industry sectors alongside politicians and researchers: this Summit aims to share strategies and encourage collaboration to implement climate goals for moving climate transformation forward. The emphasis is on tackling the issues together – among the 50 speakers and innovators are climate pioneers such as Greenpeace Energy, Ecosia, Patagonia, WWF, the KlimaUnion and Project Drawdown, along with multinational corporations such as Nestlé, Telefónica, IKEA, VW, ThyssenKrupp and Vattenfall, which strongly desire to implement their transformations. For corporations and startups, for politicians and heads of NGOs, for climate change representatives and purchasers: the Climate Transformation Summit offers a platform for those who have already become part of the solution and for those who want to become part of it. It's about identifying and overcoming obstacles – learning with and from one another to transform the climate together.   
Join us: Get your ticket to the virtual Climate Transformation Summit 2021 (June 10th and 11th). In addition, we're raffling off three tickets for our Unicorn Community. Take part in the drawing here.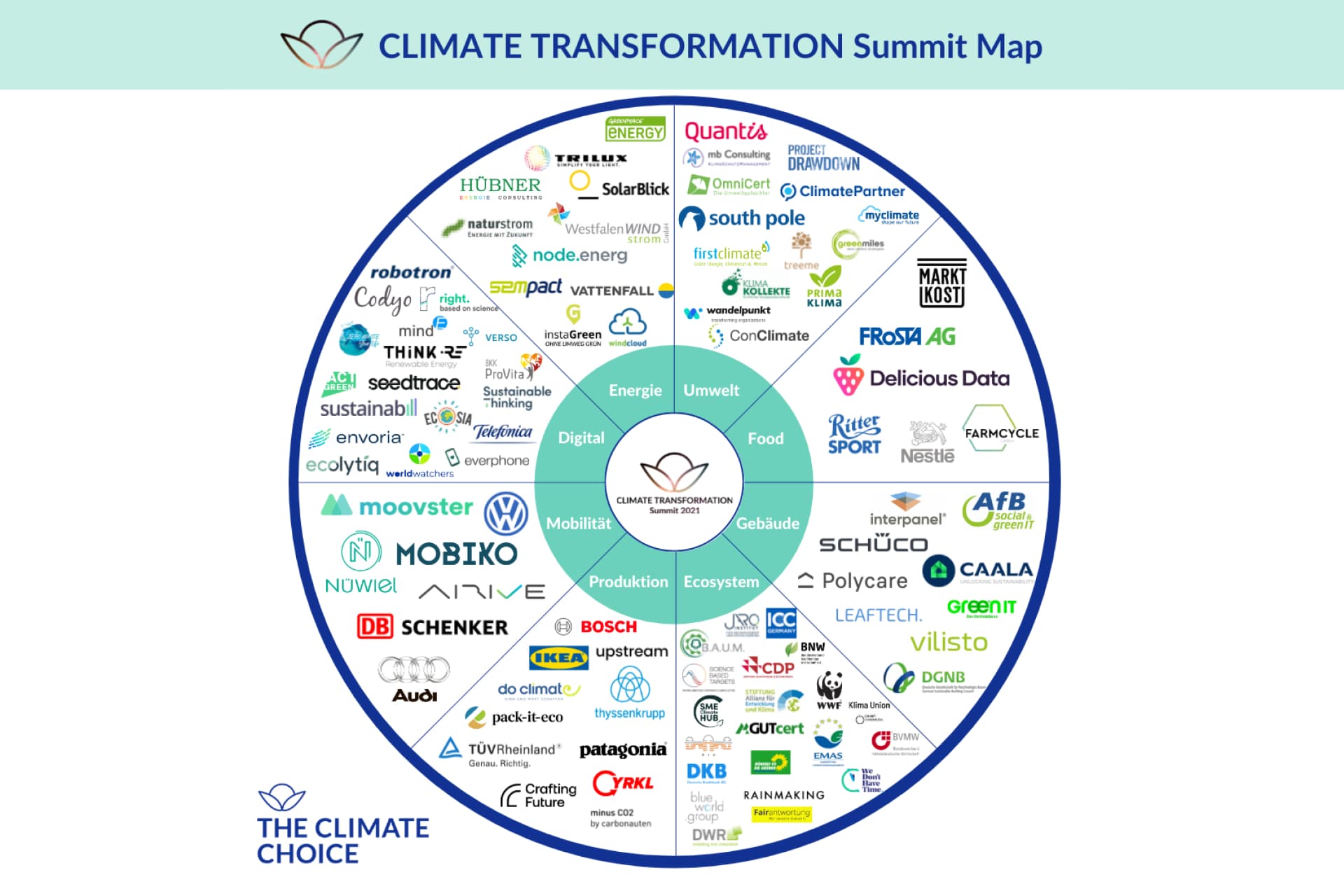 The program: panels, an online trade fair & an interactive workshop series  
The summit's two-day interactive program consists of panels, workshops and an online trade fair. The panel speakers will share their own personal experiences and plans of action for climate transformation. See more information about each speaker here. Along with the presentational input, another highlight of the summit is the online trade fair. The trade fair features climate championing exhibitors from the following 7 impact categories: energy, building, production, mobility, food, digitalization and environment. The exhibitors – who are currently applying their expert knowledge to contributing solutions for climate transformation – will give inside views of the latest climate solution approaches. The summit's series of workshops, led by experienced experts from the business and climate tech sectors, will focus on developing steps of action for climate transformation together with workshop participants. Ecosia's Danijel Višević and Wolfgang Oels will be hosting the workshop "Regenerative Future", Liv Hammann and Nicolas Schuerhoff from right.based on science will present the "Business Climate Index", Regina Karakina and Christina Schroeder de Witt from the SME Climate Hub Initiative will discuss "Climate Transformation for Small and Mid-sized Companies", and Boris Hermann will speak with us about "The Climate Protection Lifestyle".  

View the complete program here.